Kverneland Flatliner
Subsoiling and soil loosening down from 30cm to 50cm
Highlights
Maximum soil shatter
Minimum surface disturbance
Reduced wear
Reduced power requirement
Kverneland Flatliner
Selective subsoiling and soil loosening are key elements within a long-term soil management for a healthy soil structure. Fighting compaction will improve drainage and soil aeration, and thus ensure optimum root development and crop establishment. Any sub-surface pans must be identified and then removed, particularly following a wet autumn.
Incorporating the latest technology, the Kverneland Flatliner with the modern V-frame offers the perfect solution.
The Flatliner provides maximum shatter of deeply embedded compaction layers with minimum surface disturbance across the working width. It works to a depth from 30cm to 50cm. The frame equipped with bolted clamps for tine fixing enables to adjust the tine spacing. The curved shape of the Pro-lift and LD tines and the high quality chromeboron steel reduce the wear, limit the power requirement and prevent the rising of clods and stones to the surface.
Pro-lift tines
The Pro-Lift tine and point provide a very effective soil conditioning action. The tines can work down to max. 50cm depths.
The Pro-Lift tine is available with 3 different widths of wing shares and composed of 5 wearing parts for extended lifetime.
Low Disturbance tines (LD)
LD (Low Disturbance) tines are available on all Flatliner models for a minimum impact on the different layers. The Low Disturbance (LD) tine loosens the soil without surface heave and smearing at depth. The soil flow closes directly behind the tine. The tip is protected by a carbide piece to extend the life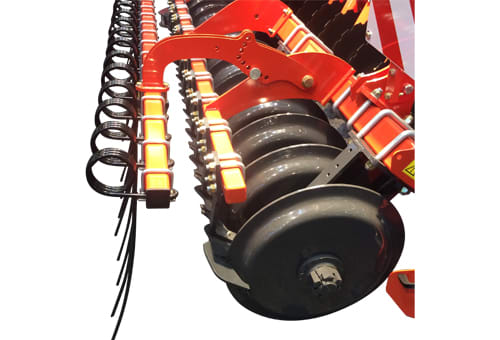 Effective consolidation plays a crucial, but often under-appreciated part in modern arable farming. As part of a reduced tillage system, it can save valuable time, reduce costs and increase yields. Fundamentally, it plays a key role in combating the problem of compaction, which is a barrier to root growth and water infiltration and a major factor in poor soil structure leading to run-off and erosion.
The well-proven 600mm diameter DD rear roller provides positive depth control and leaves a high quality corrugated, weatherproof surface. Rollers are equipped with heavy-duty scrapers and sealed-for-life 'non-grease' bearings.
Technical specifications
Download brochure
| | | |
| --- | --- | --- |
| Model | Flatliner 300 | Flatliner 350 |
| Working width (m) | 2.61 | 3.15 |
| Frame size (mm) | 150 x 150 x 10 | 150 x 150 x 10 |
| No. of tines | 3 or 5 | 5 |
| Tine spacing (cm) | 87 / 57 | 63 |
| Average power requirement (HP) | 130 - 150 | 140 - 200 |
| Max. power requirement (HP) | 250 | 250 |
| Weight (kg) | 1,700 | 2,150 |
Find nearest dealer