Kverneland 95130 C PRO
Kverneland 95130C as PRO Model with new functionalities
Highlights
Maintenance-free ProLine gearbox
Hydraulic adjustment of working and swath width
Individual lifting of all four rotors
ISOBUS control of all functions
Heavy duty solution for efficient farmers
Whereas the Kverneland 95130C is already equipped with standard features like separate front and rear rotor lift, very simple electronic control, high performance oil bath gearbox and hydraulic adjustment of working and swath width on front and rear rotors, the 95130C PRO is equipped with additional features making it even more efficient.
ISOBUS solution for professional users
The PRO version features advanced operation possibilities via ISOBUS control. All machine functions - operated now on load sensing system - are then easily controlled from each ISOBUS ready Terminal like IsoMatch Tellus or IsoMatch Tellus Go. With that, users get advanced opportunities to adjust and operate the rake according to their needs.
New functions:
All 4 rotors can be lifted individually
Folding and unfolding by just pressing one button
Working width can be controlled from the terminal
Possibility to save the swath width
Different headland delay functions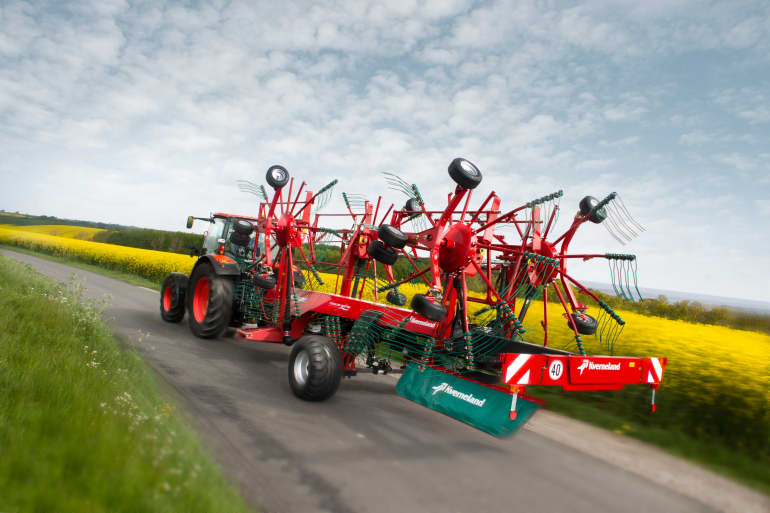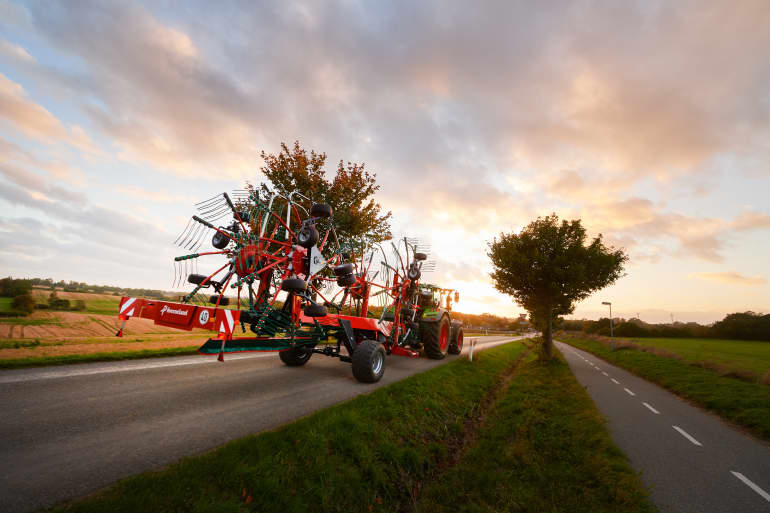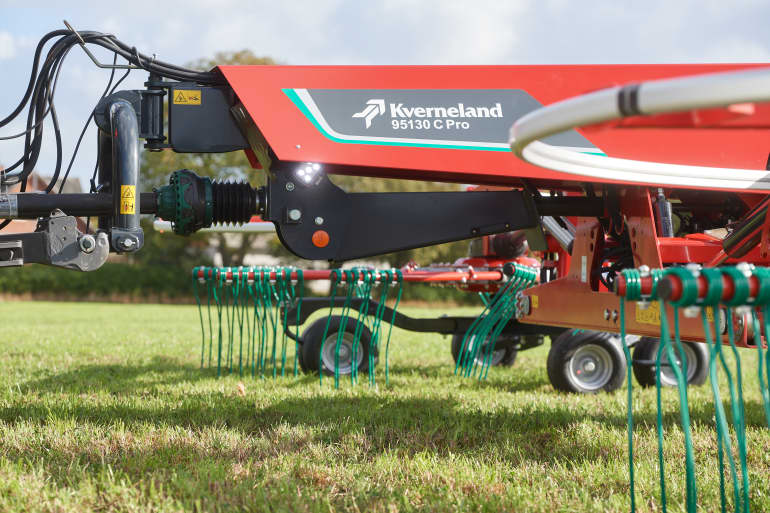 These Kverneland models give no reason for wasting time, not even when moving between fields. Just raise the rotors and off you go, securely below 4.00m transport height. There is no need to leave the tractor to remove tines arms. Large transport wheels and hydraulic brakes are standard.
For storage all tines arms are detachable to allow a storage height as low as 3.40m. A strong and stable storage foot ensures fast and trouble-free coupling and uncoupling.
The hydraulic adjustment of working and swath width allows you to customise swath intensity and width to the capacity of the following machine, conveniently handled and controlled from the tractor seat. Working width can be set between 10 and 12.50m and swath width can be adjusted between 1.20 and 2.20m, adding the necessary flexibility.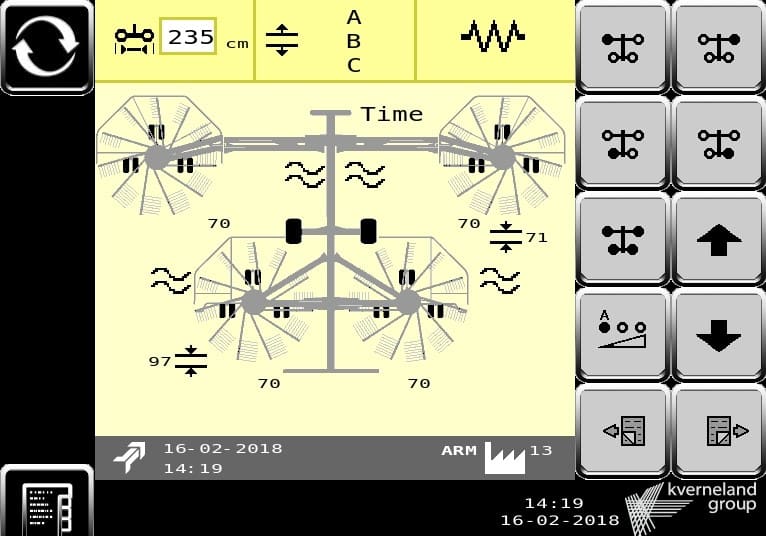 The 95130C PRO and 97150C are fully Isobus compatible and available with the IsoMatch Tellus PRO or Tellus Go terminals.
The IsoMatch Tellus PRO is a virtual terminal, offering 2 interface screens in 1 terminal. The large 12" easily programmable touch screen offers ergonomic use.
The IsoMatch Tellus Go is especially developed for controlling machines in a simple way. Just connect your machine, step into the tractor cab, switch on the power button and GO.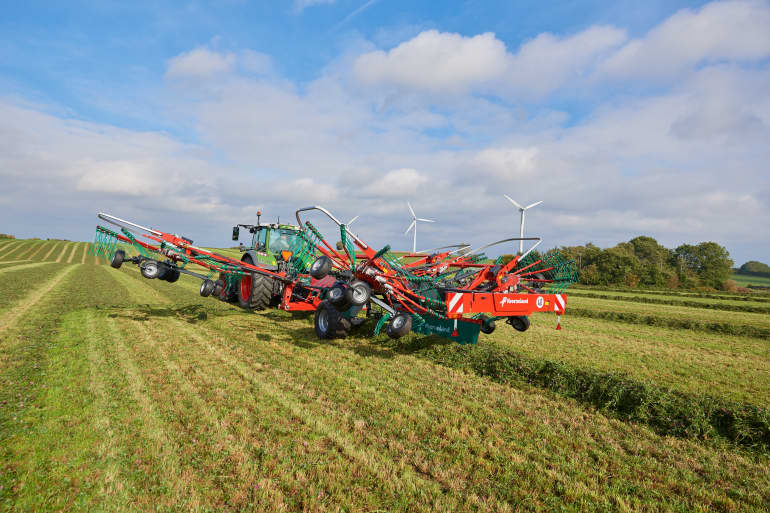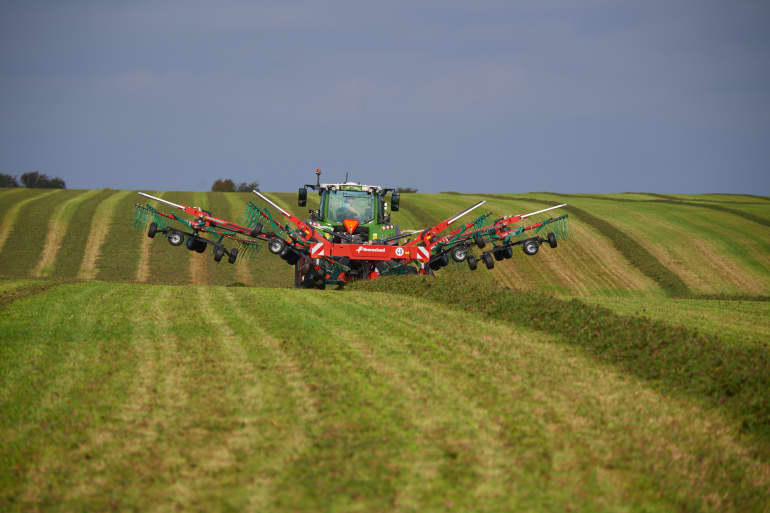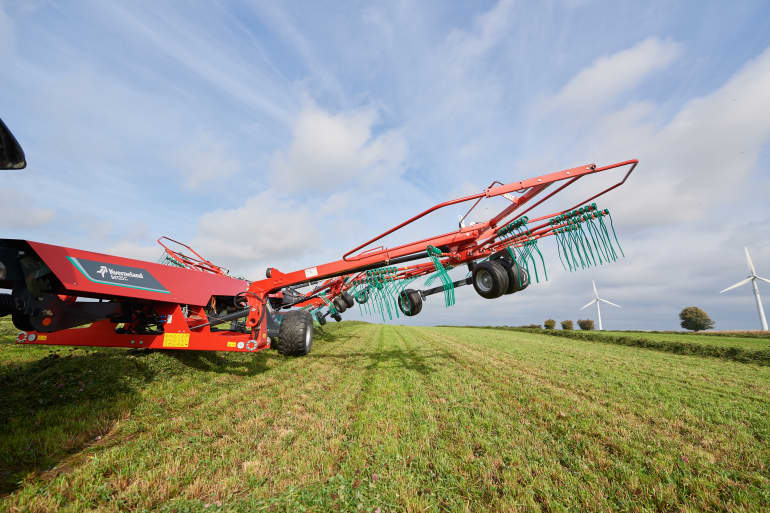 The Kverneland Models 94125 C, 95130C and 95130C PRO come with enhanced headland management. In addition to high ground clearance of rotors during headland turns it is possible to tailor time delay between lifting/lowering the front and rear rotors to driving speed and field conditions. This is done mechanically in an easy and uncomplicated way.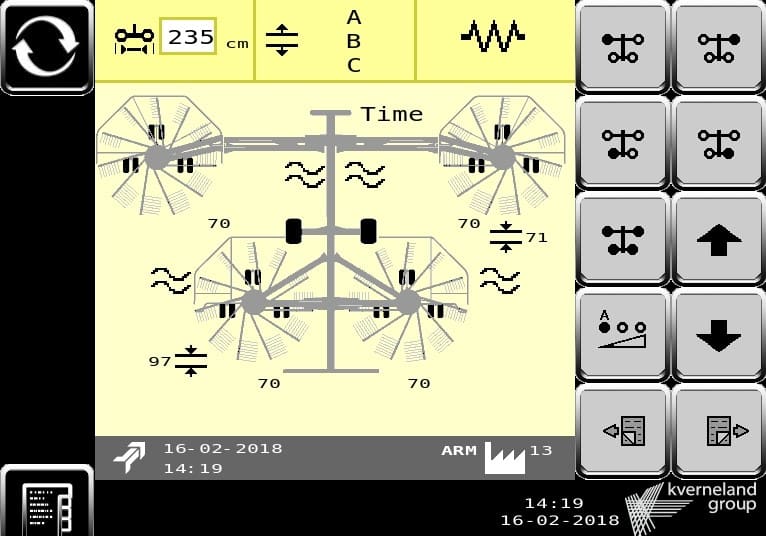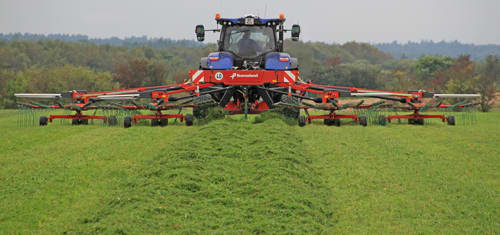 Electric height adjustment possibility of all 4 Rotors
Possibility to save the position of the rotors to recall them later
Easy set up thanks to Isobus Control
All rotors are adjusted after each other, to secure that no failures due to power consumption can occur
When deciding what equipment to purchase, it is not always easy to find the optimal solution in the broad market offering of today. Technology is developing fast and tractors and implements are more and more equipped with high tech electronics. We understand this complexity and are committed to provide you with easy farming solutions. Therefore these cost-efficient ISOBUS Universal Terminals, IsoMatch Tellus PRO and IsoMatch Tellus GO+ are made for easy machine control and efficient farming.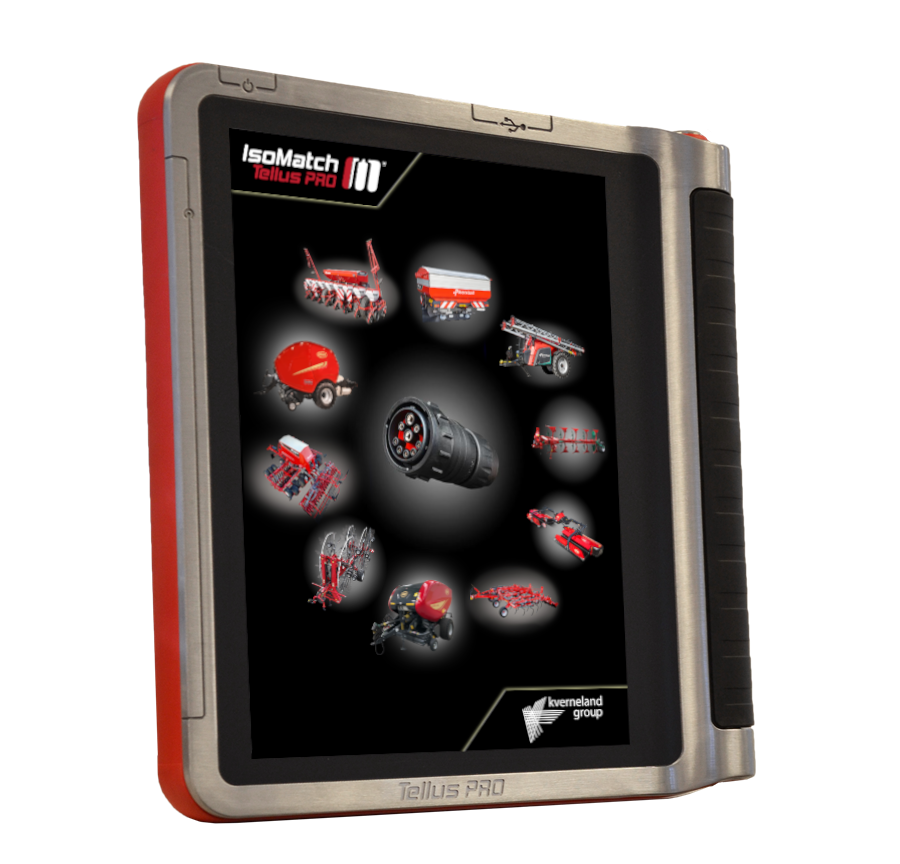 With its advanced hardware and software features, the IsoMatch Tellus PRO provides the optimal precision farming solution for an all-in-one control system inside your tractor cab.
IsoMatch Tellus PRO is the centre for connecting all ISOBUS machines and a platform for running precision farming applications. It offers everything a farmer needs to get the maximum out of his machines and crops, as well as cost savings in fertiliser, chemicals and seeds by using automatic section control and variable rate control. With the unique dual screen functionality it gives the farmer the opportunity to view and control two machines and processes simultaneously. 
Work easy. Be in control.
IsoMatch Tellus GO+ is especially developed for controlling the machine in a simple way. The farmer is in full control of the machine in exactly the way he wants. Easy set up the machine with the soft keys via the 7-inch touch screen. And, optimal control while driving, just use the hard keys and rotary switch. Controlling the implement has never been so easy.
This can be you your first step into Precision Farming
IsoMatch Tellus GO+ makes it easy to control any ISOBUS machine from your tractor cab. IsoMatch GEOCONTROL enables you to achieve higher yields, lower costs and do your work with less hassle. This licence key is divided in two parts, Section Control and Variable Rate Control, which are available from the IsoMatch Shop. Now you can buy the specific functionality that you need.